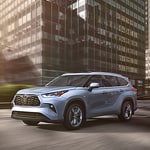 Driving is often associated with independence because a vehicle enables you to go wherever you need or want to go. The Toyota Highlander is an ideal vehicle to drive when you're ready to get on the road. It's also perfect for when you desire an SUV with a solid reputation for outstanding performance.

Multi-Terrain Select

The Toyota Highlander is fun to drive because of the Multi-Terrain Select feature that lets you enhance traction whenever road conditions change while driving. There are four different modes that include Mud & Sand, Snow, Rock & Dirt and Normal. The main benefit is being able to optimize your driving experience whenever it becomes necessary.

Dynamic Torque Vectoring AWD

The Toyota Highlander can improve responsiveness using the Dynamic Torque Vectoring AWD feature. Our team here at Toyota of Kent is confident that you will appreciate the value of this feature because of the added stability and power that it provides.