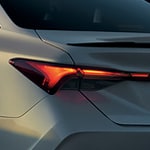 The Toyota Avalon Hybrid is a car with all the bells and whistles. This vehicle has an impressive fuel economy of 37 MPG, which means it will save you money on gas over time. It's also beautifully designed inside and out, with features that make your drive more comfortable than ever before. The Toyota Avalon Hybrid is the perfect car for anyone who wants to save money on gas (and technology) without giving up any of the comforts they love.
When you drive a Toyota Avalon Hybrid, your car is filled with several impressive technological advancements that help you navigate in ways you never have before. The car's Dynamic Radar Cruise Control uses a camera mounted on your windshield to see the vehicles around you, keeping track of their movements and allowing you to set the distance between them. Once this has been set, the Advanced Pre-Collision System can detect if the vehicle is moving towards you and can apply your brakes if needed. In addition, you can communicate with another compatible car by using a connected smartwatch or phone.
The Hybrid System Indicator lets you know when your engine will switch from gas to electric power to save fuel, while the Vehicle Proximity Notification warns you of a car in your blind spot and the Intelligent Clearance Sonar helps you detect cars in front of or behind you as soon as you exit a driveway.